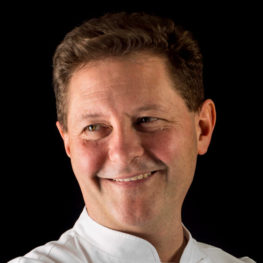 ---
Enrico Cerea, known as Chicco, is executive chef at the "Da Vittorio" family restaurant in the Province of Bergamo. He began to develop a love of cooking even as a child, under his father's expert guidance. He then started to evolve his own very personal style, as a result of his professional experience in some the world's top restaurants.
Enrico Cerea thus embarked on a brilliant career and, with his highly recognisable personality and gift for combining creativity, technique and sensitivity, began to promote a new model of hospitality for the restaurant business. He joined the pantheon of the world's top chefs when, together with her brother Bobo, his restaurant was awarded a third Michelin star.
He has had the honour of organising events for some of the world's most famous figures (Bill Clinton, the Queen of England, Barack Obama and Tina Turner), and has collaborated with top international chefs such as Jacques Cagna in Paris, Roger Vergé on the French Riviera, Heinz Winkler in Munich, and Jean Gorge Vongerichten and Sirio Maccioni  in New York. He also worked at the legendary Catalan restaurant El Bulli, at Roses in Spain.
His dishes have achieved classic status for gourmets and enthusiasts, and have featured in his best-known works: Peccati di Gola (1989) which covers his creative approach to desserts, Damare (2008), detailing his skilful use of crustaceans and molluscs and Riso (2012), containing over 120 different recipes based on rice.