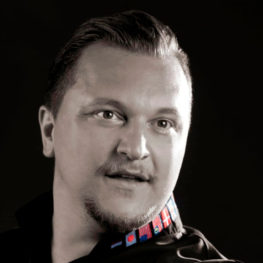 Emmanuele Forcone
Pastry Chef
---
Originally from Abruzzo, Emmanuele Forcone is one of the youngest members of the Italian Master Pastry Chefs Academy, a professional expert with a following both in Italy and abroad and founder of the Zucchero Artistico Academy. Chocolate and sugar are his greatest loves, and he puts all his energy and creativity into working with these two ingredients.
His delicious creations are the result of many years of travel and experimentation, during which he has attended famous schools of patisserie, taken part in trade fairs, and studied and refined his technique in the workroom of his Pannamore pastry shop, while also lending the benefit of his expertise to individuals, schools and companies.
In this way, he has become an expert consultant and teacher, among the few to hold courses all over the world. He has chosen to work with just a few select companies in the sector, with whom he shares a philosophy. He has had a long-lasting relationship with Pavoni Italia, with which he has designed various lines of moulds bearing his name, and products for the world of confectionery.
His determined attitude led him to take part in many competitions, and he finished first in the following events: the Italian Junior Pastry Making Championship at SIGEP in Rimini (2003); the international Disfida di Barletta competition against France (2004); the Italian Senior Pastry Making Championship (2005, 2010 and 2014), and the Torta alla Zagara Camel Distillery Trophy.
In 2014, he wrote his first book Cioccolato Creativo (Creative Chocolate), published by Italian Gourmet. However, 2015 proved to be a truly golden year, raising him to the rank of World Champion, when he led the Italian national team to victory in the XV Coupe du Monde de la Pâtisserie at Lyon. This exciting event is described in his book Cuore, Mani, Ali (Heart, Hands, Wings), published by Chiriotti Editori.
Courses