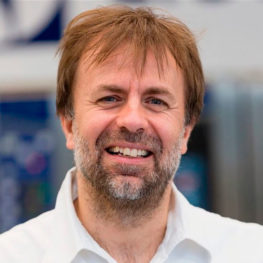 ---
A globally famous chef and pastry chef, Luca Montersino is also a lecturer and researcher into wholesome haute cuisine and patisserie and the author of several books. He divides his time between teaching courses, giving presentations around the world and appearing in television programmes (Peccati di Gola, La Prova del Cuoco and Accademia Montersino on AliceTV).
He has had a brilliant career. After graduating from I.P.S.A.A.R. in Pinerolo in 1992, he worked in several award-winning restaurants, such as the 2-star Michelin Flipot in Torre Pellice, the 1-star Michelin La Ciau del Tornavento in Treiso, run by Maurilio Garola, and the Pasticceria Ferraud in Pinerolo. At the age of just 21, he became executive chef at the hotel Miramonti in Cogne. From 2001 to 2004, he served as executive chef and director at the Etoile Academy of Culinary Arts.
When he is not involved in television broadcasts, he can be found at his Pasticceria Golosi di Salute in Alba, or at one of his Luca Montersino X Eataly shops in Turin, Rome, Florence, New York and Tokyo. In partnership with Francesca Maggio, he now also runs the iCook cookery and pastry making school, which offers high-level classes for professionals, adopting an innovative and multidisciplinary approach.
With his clear, simple explanations, he inspires both enthusiasts and experts in the field. He has fought a real campaign against hydrogenated fats, preservatives, colourings, and "refined" ingredients, creating wholesome, delicious recipes and putting health firmly back at the centre of the culinary debate. He proposes an alternative, natural way of pastry making, focusing on the quality and special nature of ingredients.